Race Street, Everittstown Road, Pittstown Road, Leigh Street, Halstead Street, West Main Street, Bridge Street, Main Street, Church Street, Fairview Avenue, West Mill Road, East Mill Road, North Road, Dover-Chester Road, Quaker Church Road, Reservoir Avenue, Prospect Street, Blackwell Street, Dover-Rockaway Road, Wall Street, Halsey Avenue, Hibernia Avenue, Green Pond Road, Union Valley Road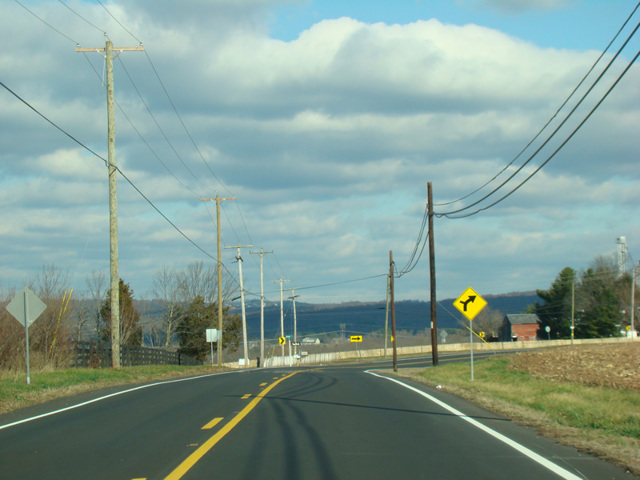 ---
Direction:

North/South

Southern Terminus:

Kingwood Avenue (NJ 12) in Frenchtown

Northern Terminus:

Lakeside Road (CR 511) in West Milford

Distance:

66.83 miles

Counties:

Hunterdon, Morris, Passaic

Signed:

Yes
CR 513 is a relatively long route extending from Frenchtown near the border with Pennsylvania to West Milford at Greenwood Lake near the border with New York. Where NJ 12 turns from Race Street onto Kingwood Avenue in Frenchtown, Race Street continues as CR 513. After a couple of blocks, it changes names to become Everittstown Road, which runs northeast to Pittstown and ends at Pittstown Road (CR 579). The two routes are multiplexed along Pittstown Road for one block, and then CR 579 splits off onto Bloomsbury Road. CR 513 continues along Pittstown Road to Clinton.
In Clinton, Pittstown Road ends at NJ 173. The two routes are multiplexed for a few blocks to the east. CR 513 then splits off onto Leigh Street, which changes names to become Halstead Street and then ends at NJ 31. There is another short multiplex to the north, and then CR 513 splits off onto West Main Street, which is follows northeast to High Bridge. It follows Bridge Street, Main Street, Church Street, and Fairview Avenue through High Bridge. Heading out of town, it continues northeast to Long Valley, where it is known as West Mill Road and East Mill Road. In Chester, East Mill Road becomes West Main Street and then Main Street upon crossing US 206. After a little less than a mile, Main Street turns east as CR 510, while CR 513 continues northeast as North Road.
North Road changes names to become Dover-Chester Road, which, as its name suggests, runs northeast toward Dover. Just north of NJ 10, Dover-Chester Road ends and CR 513 turns east onto Quaker Church Road and then north onto Reservoir Avenue, which is follows into Dover. There, Reservoir Avenue ends and CR 513 turns east onto Blackwell Street. After about a mile, Blackwell Street ends at Dover-Rockaway Road, and CR 513 turns north onto it. Upon crossing US 46, Dover-Rockaway Road turns into West Main Street. In Rockaway, CR 513 turns north onto Wall Street and then northeast onto Church Street, which merges into Halsey Avenue. After one block, Halsey Avenue ends and CR 513 turns east onto Hibernia Avenue, which changes names to become Green Pond Road.
There is an interchange with I-80, and then Green Pond Road runs north all the way to Newfoundland, where it ends at the southbound lanes of NJ 23. CR 513 continues as Union Valley Road, which begins at the northbound lanes of NJ 23 a short distance away. Motorists wishing to follow CR 513 in either direction must merge onto NJ 23 going in the wrong direction and then use a jughandle to turn around. Union Valley Road runs north to West Milford, where it ends at Lakeside Road (CR 511) and Greenwood Lake Turnpike (CR 511) near Greenwood Lake.
---