South Pemberton Road, West Hampton Street, East Hampton Street, Pemberton Bypass, Pemberton-Browns Mills Road, Juliustown Road, Lakehurst Road, Whiting-New Egypt Road, Lacey Road, Pinewald-Keswick Road, Dover Road, Main Street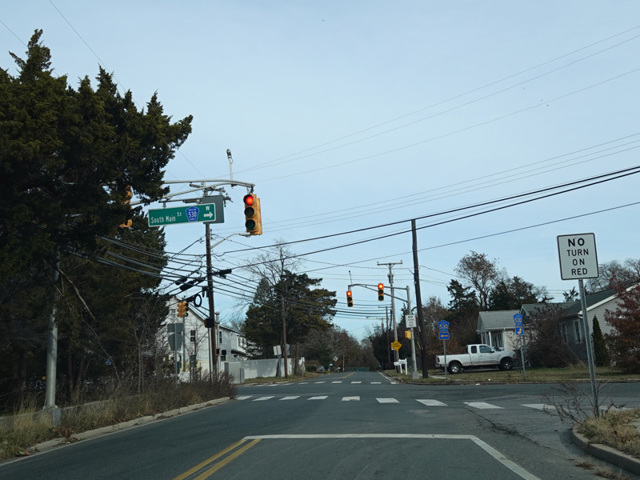 ---
Direction:

East/West

Western Terminus:

Pemberton Road (NJ 38) and US 206 in Southampton

Eastern Terminus:

NJ 166 in Toms River

Distance:

31.21 miles

Signed:

Yes
CR 530 is an eastern extension of NJ 38 across the state to Toms River. It begins at the eastern terminus of NJ 38 at US 206 in Southampton and runs east along South Pemberton Road, which becomes West Hampton Street in Pemberton. Upon crossing Hanover Street (CR 616), it changes names to become East Hampton Street, which becomes Pemberton Bypass, a two-lane road running to the south of the downtown area of Pemberton. Pemberton Bypass curves to the north and ends. CR 530 turns east onto Pemberton-Browns Mills Road, which is designated CR 687 to the west of this point.
Pemberton-Browns Mills Road continues east to Browns Mills. There, it turns south onto Juliustown Road, which is designated CR 669 to the north of this point. Pemberton-Browns Mills Road continues east as CR 667. Juliustown Road runs southeast for a few blocks before merging with Trenton Road (CR 545) to form Lakehurst Road, which runs southeast for several miles to end at NJ 70. CR 530 is multiplexed with NJ 70 for a couple of miles to a traffic light at CR 539. CR 530 follows CR 539 south for one block and then splits off onto Lacey Road, which continues to the southeast.
After a couple of miles, Lacey Road splits off to become CR 614, while CR 530 changes names to become Pinewald-Keswick Road. It continues southeast to Forked River, where it turns east onto Dover Road. The sections of Pinewald-Keswick Road and Dover Road on the other side of this intersection are designated CR 618. Dover Road runs northeast to Toms River, where there is an interchange with the Garden State Parkway (NJ 444). A few blocks thereafter, CR 530 turns onto Main Street, which runs north for a few blocks to end at NJ 166 in the downtown area.
---