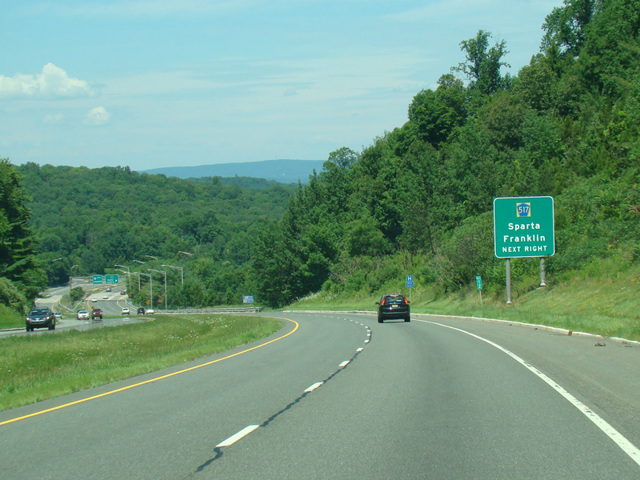 ---
Direction:

North/South

Southern Terminus:

West McFarlan Street (US 46) in Dover

Northern Terminus:

US 206 in Frankford

Distance:

19.16 miles

Counties:

Morris, Sussex

Signed:

Yes
NJ 15 is a north/south route extending from Dover to Frankford. It serves as an alternate route to the Poconos from New York City. In Dover, it is a two-lane undivided road known as West Clinton Street. After about a mile, it has an interchange with I-80 and widens to become a four-lane divided highway with a combination of traffic lights with jughandles and some grade-separated interchanges. In the vicinity of Sparta, it becomes a freeway. At the end of the freeway, it merges with NJ 181, which follows the local streets through Sparta, and narrows down to become a two-lane undivided road again. It ends at US 206 in Frankford.
Prior to 2008, an underpass carried NJ 15 under US 46 at what is now the southern terminus. It then followed Clinton Street and North Bergen Street to end at US 46 a few blocks to the east. This configuration was presumably built to avoid the need to build an overpass to carry NJ 15 over railroad tracks passing through the area. A construction project that lasted from 2008 to 2012 created such an overpass and moved NJ 15 to its current alignment. This left a second section of NJ 15 south of US 46 along Clinton Street and North Bergen Street that is not contiguous with the rest of the route. Confusingly, this section has kept the NJ 15 designation and remained a signed route.
---
Copyright © 2003-2021 by David Golub. All rights reserved. The author would like to thank William Roll for contributing photographs and LC for contributing documents to this web site. You may not reproduce any text or photographs on this web site without express permission from the author. Hotlinking of images from this site is strictly prohibited. Route symbols based on graphics from Central PA/MD Roads and Wikipedia. Map icons by MapGlyphs.com.