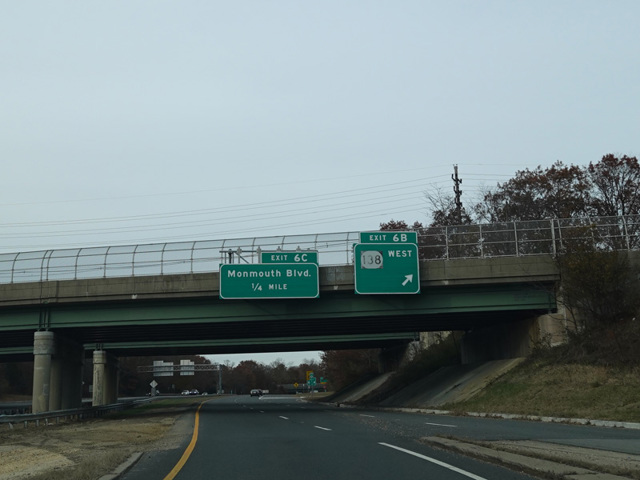 ---
Direction:

North/South

Southern Terminus:

NJ 138 in Wall

Northern Terminus:

Middlesex Freeway (I-287) in Piscataway

Distance:

47.92 miles

Counties:

Monmouth, Middlesex

Signed:

Yes
NJ 18 is a major highway in New Jersey, extending from NJ 138 to Rutgers University in Piscataway. The southern portion is a limited-access highway known as the Monmouth Freeway. Further north, it has a combination of grade-separated interchanges and traffic lights. The section in the New Brunswick is known as Memorial Parkway and is a limited-access highway again. In Piscataway, Memorial Parkway becomes Hoes Lane, a four-lane divided surface road. Hoes Lane ends at Centennial Avenue, changing names to become Old New Brunswick Road. NJ 18 turns west onto Centennial Avenue for a short distance, following it to exit 8 of the Middlesex Freeway (I-287), where NJ 18 ends.
NJ 18 was planned to extend several miles south of where it currently begins to the junction of NJ 34, NJ 35, and NJ 70. Therefore, the exit numbers of the Monmouth Freeway begin at 6. The remaining exit number here reserved for the unbuilt section.
Photo Gallery
Exit List
Map
---
Copyright © 2003-2021 by David Golub. All rights reserved. The author would like to thank William Roll for contributing photographs and LC for contributing documents to this web site. You may not reproduce any text or photographs on this web site without express permission from the author. Hotlinking of images from this site is strictly prohibited. Route symbols based on graphics from Central PA/MD Roads and Wikipedia. Map icons by MapGlyphs.com.