John Fitch Way, River Road, Main Street, Risler Street, Daniel Bray Highway, Trenton Avenue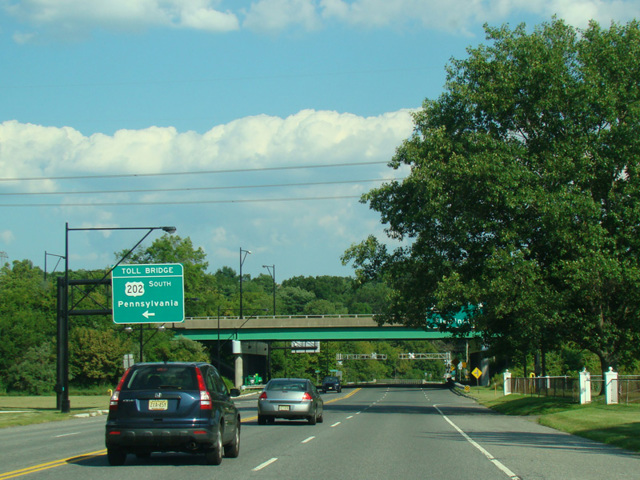 ---
Direction:

North/South

Southern Terminus:

I-195 and I-295 in Hamilton

Northern Terminus:

Bridge Street (NJ 12) and Race Street (NJ 12) in Frenchtown

Distance:

34.71 miles

Counties:

Mercer, Hunterdon

Signed:

Yes
NJ 29 is a north/south route running along the Delaware River from Trenton to Frenchtown. I-195 turns into NJ 29 at its western terminus at I-295. NJ 29 remains an expressway for about a mile through Trenton before passing through the Trenton Tunnel, which carries it under River Walk Park. On the other side of the tunnel, it is a four-lane divided highway with a mixture of traffic lights and grade-separated interchanges. After another couple of miles, it has an interchange with I-95 and then narrows down to become a two-lane undivided road, running northwest along the river to Lambertville.
The alignment of NJ 29 through Lambertville is complicated. The official route shown in state documents have NJ 29 bypassing a few blocks of Main Street by being multiplexed with NJ 165 for its entire length and then following Bridge Street (NJ 179) west for one block before turning north onto Main Street. However, NJ 29 is signed as following Main Street for its entire length. To further complicate things, part of the section of Main Street bypassed by NJ 165 is one-way southbound. Therefore, northbound traffic is forced onto NJ 165, which has TO NJ 29 shields.
North of Lambertville, NJ 29 continues along the river as a two-lane undivided road to Frenchtown, where it ends at NJ 12.
---