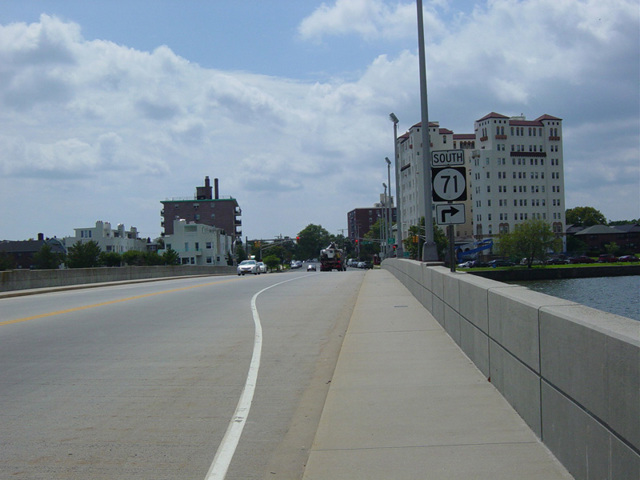 ---
Direction:

North/South

Southern Terminus:

NJ 35 in Brielle

Northern Terminus:

Main Street (NJ 35) in Eatontown

Distance:

16.78 miles miles

Counties:

Monmouth

Signed:

Yes
NJ 71 is a north/south route in Monmouth County, extending from Brielle to Eatontown. It begins at NJ 35, just north of the bridge over the Manasquan River from Ocean County. The southernmost section is known as Union Avenue. NJ 71 runs north through Manasquan and Spring Lake to Belmar, changing names several times to become Taylor Avenue, then Parker Avenue, then Seventh Avenue, then H Street. H Street ends at River Road (NJ 35). NJ 71 is multiplexed with NJ 35 along River Road for a few blocks, and then the two routes split. NJ 71 follows Eighth Avenue east for two blocks and then turns north onto Main Street, which crosses the Shark River to Avon-by-the-Sea on a drawbridge.
Main Street continues north through Bradley Beach and Neptune to Asbury Park, where it turns east onto Deal Lake Drive, which runs along Deal Lake for a few blocks. NJ 71 then turns north onto Norwood Avenue, crossing a bridge over the lake to Loch Arbour. Norwood Avenue runs north to the campus on Monmouth University in Long Branch, where it ends. It turns east onto Cedar Avenue, which ends after about half a mile at Monmouth Road. NJ 71 follows Monmouth Road to the northwest until Oceanport, where it ends at Broad Street (CR 537). NJ 71 is multiplexed with CR 537 along Broad Street to its northern terminus at Main Street (NJ 35) in Eatontown.
---
Copyright © 2003-2021 by David Golub. All rights reserved. The author would like to thank William Roll for contributing photographs and LC for contributing documents to this web site. You may not reproduce any text or photographs on this web site without express permission from the author. Hotlinking of images from this site is strictly prohibited. Route symbols based on graphics from Central PA/MD Roads and Wikipedia. Map icons by MapGlyphs.com.