Bordentown Road, South Broad Street, North Broad Street, Martin Luther King Jr. Boulevard, Princeton Avenue, Lawrence Road, Stockton Street, Bayard Lane, State Road, Main Street, Woodside Avenue, Water Street, Hampton House Road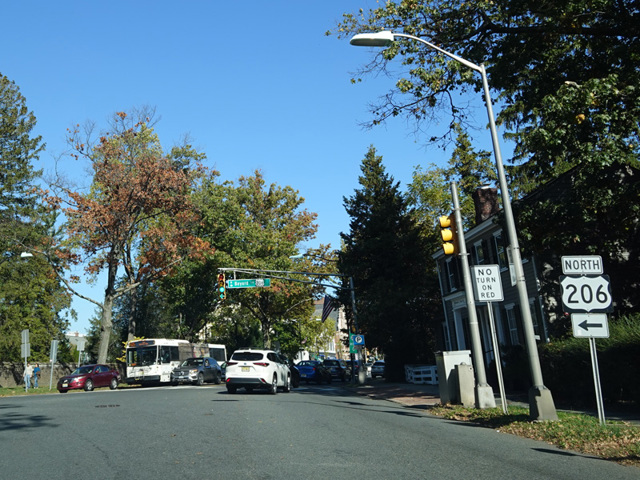 ---
Direction:

North/South

Southern Terminus:

White Horse Pike (US 30) in Hammonton

Northern Terminus:

New Jersey-Pennsylvania state line

Distance:

129.77 miles

Counties:

Atlantic, Burlington, Mercer, Somerset, Morris, Sussex

Signed:

Yes
US 206 is a major north/south route in New Jersey, running mostly through rural areas but also passing through Trenton. It begins at White Horse Pike (US 30) in Hammonton and runs north as a two-lane undivided road through rural surroundings. In Vincentown, it widens to four lanes. It continues north to Bordentown, becoming a divided highway just before the town line. There is an interchange with the New Jersey Turnpike (I-95) at exit 7. About a mile north of the turnpike, US 206 merges with US 130. The two routes are multiplexed for about half a mile and then split. US 206 continues north, crossing I-195 and having an interchange with it.
Just north of I-195, US 206 curves to the west and becomes South Broad Street. It passes over I-295, although there is no interchange, and then enters Trenton, the state capital. In Trenton, the divider ends and South Broad Street narrows down to two lanes. It passes over the Trenton Freeway (US 1), again with no interchange, and curves to the north. US 206 is then routed along a pair of parallel one-way streets. Northbound traffic follows North Broad Street while southbound traffic follows North Warren Street. After a few blocks, the northbound and southbound lanes come back together to form Martin Luther King Jr. Boulevard, which continues north out of Trenton to Lawrence, changing names to become Princeton Avenue.
In Lawrence, Princeton Avenue becomes Princeton Pike (CR 583). At this intersection, US 206 turns northwest onto Lawrence Road, which runs north and then northeast to Princeton, crossing I-95 at exits 7A-B. In Princeton, Lawrence Road changes names to become Stockton Street. It continues northeast to the southern terminus of Nassau Street (NJ 27), where it turns north onto Bayard Lane. Heading out of Princeton, Bayard Lane changes names to become State Road. US 206 continues north to Hillsborough, where it widens to become a four-lane divided highway. In Somerville, it merges with US 202.
The combined US 202/US 206 runs north as a four-lane divided highway, having interchanges with US 22 and I-287. North of I-287, the divider ends and US 202/US 206 narrows down to two lanes. It continues north to Bedminster, where it crosses I-78. After about another mile, there is a second interchange with I-287. Then, US 202 and US 206 split. US 206 runs north to I-80. It is multiplexed with I-80 for a couple of exits to the west and then splits off again. It runs north to the Delaware River, where there is a bridge to Pennsylvania. It ends on the other side of the bridge at US 209 in Milford.
---