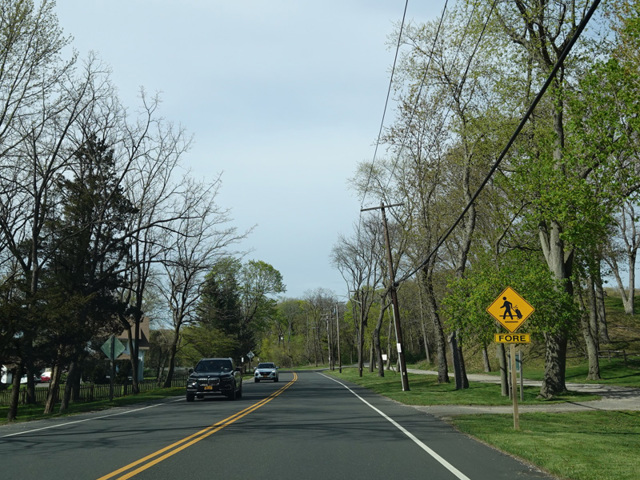 ---
Direction:

North/South

Southern Terminus:

Bethpage Road and Quaker Meeting House Road in Bethpage

Northern Terminus:

Long Island Expressway (I-495) at the Nassau-County county line

Distance:

3.41 miles

Signed:

No
Round Swamp Road is the easternmost north/south route in Nassau County. It begins at the junction of Bethpage Road and Quaker Meeting House Road and runs north through Bethpage State Park. After a few miles, it reaches the eastern terminus of Old Country Road (CR 25). The two routes merge together, and then there is an interchange with the Long Island Expressway (I-495) at exit 48 along the Nassau-Suffolk county line. Round Swamp Road continues into Suffolk County as an unnumbered town road to end at Jericho Turnpike (NY 25) in Huntington.
Round Swamp Road is designated CR 110, which would be somewhat confusing (if county route numbers were signed in Nassau County), considering that it runs parallel to and is not that far away from NY 110. It is conceivable that this designation may derive from Round Swamp Road having been a former alignment of NY 110, along with Great Neck Road (Suffolk CR 47) as well as Main Street and Bethpage Road, which were originally part of CR 110 under the old system that was in place in 1962 but are now unnumbered county roads. County documents make reference to some portions of this alignment being former state highways, which is consistent with this hypothesis.
---
Copyright © 2003-2020 by David Golub. All rights reserved. The author would like to thank William Roll for contributing photographs and LC for contributing documents to this web site. You may not reproduce any text or photographs on this web site without express permission from the author. Hotlinking of images from this site is strictly prohibited. Route symbols based on graphics from Central PA/MD Roads and Wikipedia. Map icons by MapGlyphs.com.