Cross Bay Boulevard, Woodhaven Boulevard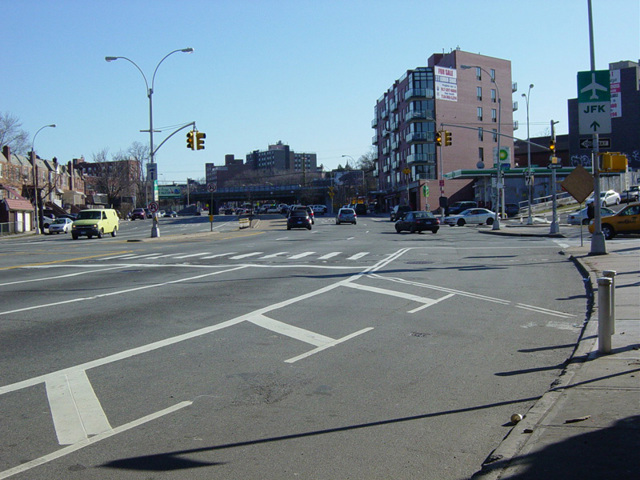 ---
Direction:

North/South

Southern Terminus:

Cross Bay Parkway and Beach Channel Drive in the Rockaways

Northern Terminus:

Queens Boulevard (NY 25) in Queens

Distance:

10.75 miles

Counties:

Queens
Cross Bay Boulevard and Woodhaven Boulevard form a major north/south corridor in Queens. The entire length is a six-lane divided boulevard, making it the largest road in Queens that is not either a limited-access highway or a state route.
Cross Bay Parkway in the Rockaways changes names to become Cross Bay Boulevard at its interchange with Beach Channel Drive. The first section is the Cross Bay Bridge, which connects the Rockaways to Broad Channel, an island in the middle of Jamaica Bay. Cross Bay Boulevard continues north through the length of Broad Channel and then goes over the North Channel Bridge, also known as the Joseph P. Addabbo Bridge, to the Howard Beach section of Queens. A short distance to the north, there are interchanges with the Belt Parkway, the Nassau Expressway (NY 878), South Conduit Avenue (NY 27), and North Conduit Avenue (NY 27).
At Rockaway Boulevard, Cross Bay Boulevard changes names to become Woodhaven Boulevard. Woodhaven Boulevard continues north through Queens. It ends at Queens Boulevard (NY 25), just north of the Long Island Expressway (I-495).
Cross Bay Boulevard and Woodhaven Boulevard are listed in the state's Highway Law as part of the state highway system. However, they are maintained by the city. There is no route number for Cross Bay Boulevard or Woodhaven Boulevard, with the exception of the Cross Bay Bridge, which has a reference route of 900J. It is possible that there may have been plans the remainder to be taken over by the state and/or assigned a state route number.
---