Central Park Avenue, Tarrytown Road, Hillside Avenue, Grasslands Road, Bradhurst Avenue, Brighton Avenue, Briarcliff-Peekskill Parkway, Saw Mill River Road, Somerstown Road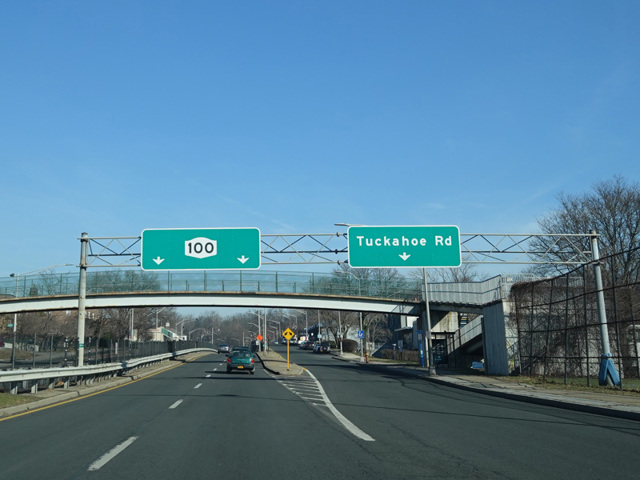 ---
Direction:

North/South

Southern Terminus:

New York Thruway (I-87) in Yonkers

Northern Terminus:

Somers Road (US 202) in Somers

Distance:

33.27 miles

Counties:

Westchester

Signed:

Yes
NY 100 is a major north/south route in Westchester County. Just north of the Cross County Parkway in Yonkers, the service roads of the New York Thruway (I-87), which are known as Central Park Avenue and designated CR 47, come together to form a large divided highway. NY 100 begins at this point. The southernmost section has a few grade-separated interchanges and some jughandles. In Scarsdale, the divider ends. Central Park Avenue continues north as an undivided road to White Plains, where it ends at Tarrytown Road (NY 119). NY 100 is multiplexed with NY 119 along Tarrytown Road for about half a mile to the west and then turns north onto Hillside Avenue. After a couple of miles, Hillside Avenue changes names to become Grasslands Road and curves to the west. Grasslands Road runs west through Valhalla for about half a mile. Then, NY 100 turns north onto Bradhurst Avenue.
In Hawthorne, Bradhurst Avenue splits off to become a connector leading to Broadway (NY 141). NY 100 follows Brighton Avenue for a couple of blocks and then turns onto a divided highway that merges with Saw Mill River Road (NY 9A) to form the Briarcliff-Peekskill Parkway. NY 9A and NY 100 are multiplexed along the parkway for several miles, and then the two routes split. NY 9A continues along the parkway, while NY 100 splits off onto Saw Mill River Road. In Millwood, Saw Mill River Road ends at Somerstown Road (NY 133). The two routes are multiplexed for a few blocks and then NY 133 splits off onto Station Place. NY 100 continues north along Somerstown Road to Somers, where it ends at Somers Road (US 202).
As of 1950, NY 100 extended south into New York City. It followed Central Park Avenue (CR 47) south to the Bronx-Westchester county line, Jerome Avenue and the Grand Concourse through the Bronx, the 145 Street Bridge across the Harlem River to Manhattan, and Lenox Avenue, 5 Avenue, and Park Avenue through Manhattan. It ended at Houston Street, which at the time was designated NY 1A.
---