Kingston-Rhinecliff Bridge, West Market Street, East Market Street, West Church Street, East Church Street
Eastbound Views (Archived)
These pictures show the approach to the Kingston-Rhinecliff Bridge as it appeared before the conversion to cashless tolling. The tollbooth has been demolished and replaced with a cashless tolling gantry.
Photos taken June 2019.
As of 2019, the speed limit on the Kingston-Rhinecliff Bridge was 40 MPH. It has since been reduced to 35 MPH.
Photos taken June 2019.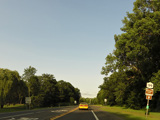 These signs were found on NY 199 just past River Road (CR 103). They have been removed.
Photo taken June 2019.
---