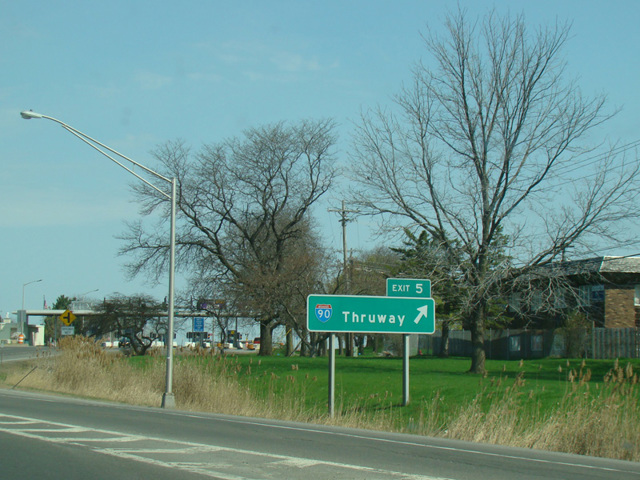 ---
Direction:

East/West

Western Terminus:

I-690 in Syracuse

Eastern Terminus:

NY 31 in Bridgeport

Distance:

14.12 miles

Counties:

Onondaga

Signed:

Yes
NY 298 is an east/west route extending from Syracuse to Bridgeport. It begins at exit 9 of I-690 and runs northeast along Bear Street to I-81. It then turns east onto Genant Drive and Sunset Avenue, a pair of parallel one-way streets on opposite sides of the highway. After one block, NY 298 turns north onto Court Street. It follows Court Street out of Syracuse, curving to the east. In East Syracuse, there are two traffic circles. The second of these is Carrier Circle, a traffic circle with exit numbers at which there is access to the New York Thruway (I-90). It is named for Carrier, the air conditioning company, which has a building near the circle. East of Carrier Circle, NY 298 is called Carrier Parkway. After a short distance, it curves to the north to become Kinne Street and crosses the Thruway. On the other side, it curves to the east again, becomes Collamer Road, and has an interchange with I-481. About a mile past the interchange, NY 298 turns northeast onto Minoa Road, which is follows to NY 31 in Bridgeport, where it ends.
NY 298 has a truck route in Syracuse and East Syracuse. The truck route continues along Bear Street to US 11, follows US 11 north to Factory Avenue, runs east along Factory Avenue to Town Line Road, and then cuts south on Town Line Road to rejoin NY 298 at the first traffic circle.
---
Copyright © 2003-2022 by David Golub. All rights reserved. The author would like to thank William Roll for contributing photographs and LC for contributing documents to this web site. You may not reproduce any text or photographs on this web site without express permission from the author. Hotlinking of images from this site is strictly prohibited. Route symbols based on graphics from Central PA/MD Roads and Wikipedia. Map icons by MapGlyphs.com.