West Lake Road, East Lake Road, Lake Shore Drive West, Lake Shore Drive East, Lake Road, Howard Street, Main Road, Erie Road, Lakeshore Road, Hamburg Turnpike, Buffalo Skyway, Church Street, South Division Street, Ellicott Street, Pearl Street, Main Street, Caledonia-Leroy Road, State Street, Caledonia Avon Road, East Avon Road, East Avon Lima Road, Buffalo Road, Hamilton Street, Waterloo Geneva Road, Lake Front Drive, Fall Street, Cayuga Street, Auburn Road, Clark Street Road, Grant Avenue, West Main Street, East Main Street, West Genesee Turnpike, West Genesee Street, Erie Boulevard East, East Genesee Street, Genesee Turnpike, Genesee Street, Seneca Turnpike, Seneca Avenue, North-South Arterial Highway, Leland Avenue, Herkimer Road, West State Street, East State Street, Mohawk Turnpike, West Grand Street, East Grand Street, Cranes Hollow Road, Amsterdam Road, Mohawk Avenue, Western Gateway Bridge, Central Avenue, Washington Avenue, Broadway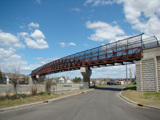 This picture shows the pedestrian overpass over the North-South Arterial Highway in Utica as observed from the side streets.
Photo taken May 2015.
These pictures show Erie Canal Lock 11, which is located off of NY 5 in Amsterdam.
Photos taken August 2022.
---