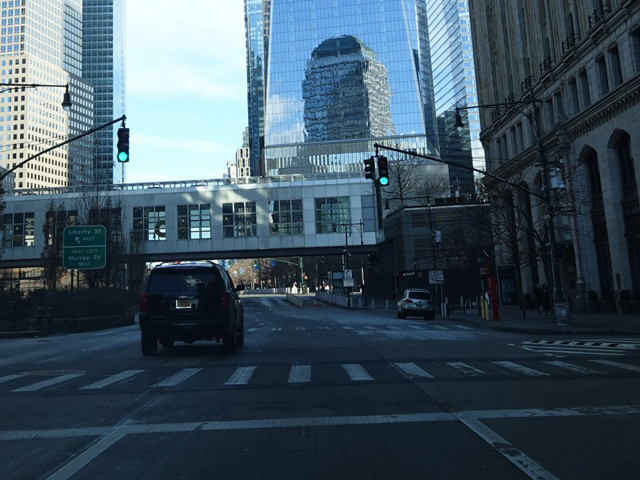 ---
Direction:

North/South

Southern Terminus:

FDR Drive and Hugh L. Carey Tunnel (I-478) in Manhattan

Northern Terminus:

Briarcliff-Peekskill Parkway (US 9) in Peekskill

Distance:

47.25 miles

Counties:

New York, Bronx, Westchester

Signed:

Yes
NY 9A begins at the Battery in Manhattan. The southern section was originally a limited-access highway called the West Side Highway. This highway collapsed, and NY 9A was rerouted along West Street, 11 Avenue, and 12 Avenue. This section is a large two-way divided boulevard with traffic lights that runs along the West Side of Manhattan. It has certain intersections signed as exits with exit numbers. Further north in Manhattan, NY 9A becomes the Henry Hudson Parkway, a limited-access highway for noncommercial vehicles only. It runs north through Manhattan past the George Washington Bridge (I-95). At the northern end of Manhattan, the Henry Hudson Parkway crosses the Harlem River to the Bronx on the Henry Hudson Bridge. It continues north through the Bronx.
Near the Bronx-Westchester county line, NY 9A splits off from the Henry Hudson Parkway and is multiplexed with US 9 along Broadway. Slightly north of the Bronx-Westchester county line, NY 9A splits off from US 9 and runs east along Ashburton Avenue for a short distance. It is then routed north through Westchester along Saw Mill River Road and the Briarcliff-Peekskill Parkway to US 9 in Ossining. It is multiplexed with US 9 along the Croton Expressway for a short distance. It splits off and runs along South Riverside Avenue, North Riverside Avenue, and Albany Post Road, the former route of US 9 prior to the construction of the Croton Expressway. It ends at the Croton Expressway (US 9) in Peekskill.
---
Copyright © 2003-2022 by David Golub. All rights reserved. The author would like to thank William Roll for contributing photographs and LC for contributing documents to this web site. You may not reproduce any text or photographs on this web site without express permission from the author. Hotlinking of images from this site is strictly prohibited. Route symbols based on graphics from Central PA/MD Roads and Wikipedia. Map icons by MapGlyphs.com.