Orange Avenue, Wayne Avenue, Haverstraw Road, West Ramapo Road, East Ramapo Road, Gurnee Avenue, South Liberty Drive, North Liberty Drive, Bear Mountain Bridge, Bear Mountain Bridge Road, Main Street, Broad Street, Crompond Road, Saw Mill River Road, Tomahawk Street, Lincolndale Road, Lovell Street, Mill Street, Somers Road, Somerstown Road, Danbury Road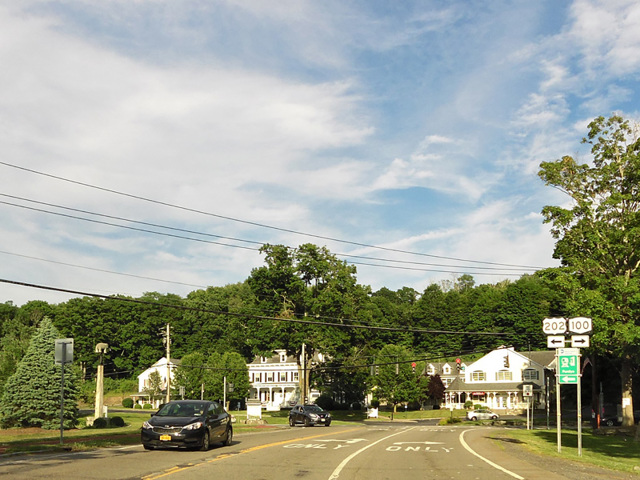 ---
Direction:

East/West

Western Terminus:

New York-New Jersey state line

Eastern Terminus:

New York-Connecticut state line

Distance:

55.57 miles

Counties:

Rockland, Orange, Westchester, Putnam

Signed:

Yes
US 202 extends from Wilmington, Delaware, to Bangor, Maine. It primarily passes through rural areas, avoiding major cities such as New York, Hartford, and Boston. It crosses into New York from New Jersey in Suffern. The first section is called Orange Avenue. After a few blocks, it intersects Lafayette Avenue (NY 59). NY 59 is multiplexed with US 202 along Orange Avenue for one block. Then, it splits off onto Wayne Avenue, which runs to the northeast. Wayne Avenue passes under the New York Thruway (I-87/I-287), but there is no exit. US 202 continues northeast, changing names to become Haverstraw Road and then West Ramapo Road and East Ramapo Road. In Haverstraw, US 202 turns onto Gurnee Avenue and follows it for one block to US 9W. US 202 is multiplexed with US 9W north along South Liberty Drive and North Liberty Drive through West Haverstraw and Stony Point to Bear Mountain.
At Bear Mountain, US 202 splits off from US 9W. It crosses the Hudson River on the Bear Mountain Bridge, multiplexed with US 6. On the other side of the river, it remains multiplexed with US 6 along Bear Mountain Bridge Road to Peekskill and then along Main Street in Peekskill. After about half a mile, it splits from US 6. It cuts south along Broad Street for a few blocks and then turns east again onto Crompond Road. It follows Crompond Road to Yorktown Heights, where it ends at Saw Mill River Road (NY 118). It is multiplexed with NY 118 along Saw Mill River Road and Tomahawk Street for a few miles. It then turns east again onto Lincolndale Road. It follows Lincolndale Road to Lincolndale, where it turns north onto Lovell Street and then east onto Mill Street, which changes names after a short distance to become Somers Road.
US 202 follows Somers Road to Somers, where it ends at Somerstown Road, which is designated NY 100 south of this intersection. US 202 turns north onto Somerstown Road and runs north through Croton Falls to Brewster, where it merges with US 6 again. US 6/US 202 has an interchange with I-684 at its northern terminus before crossing the state line to Danbury, Connecticut.
---