Delaware Expressway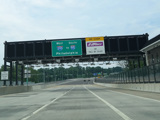 Welcome to Pennsylvania! There is a cashless tolling gantry coming over the Scudders Falls Bridge from New Jersey.
Photo taken July 2023.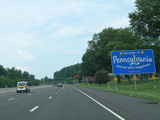 There is a state line welcome sign just past the rest area, although the state line was back at the bridge.
Photo taken July 2023.
I-295 ends here, merging into
I-95
from the left. Exit 39, which is for
Veterans Highway (PA 413)
is just before the merge. Motorists wishing to access it can use exit 1 of I-295 to merge into
I-95
from right before exit 39. The Delaware Expressway continues straight ahead as
I-95
.
Photos taken July 2023.
---