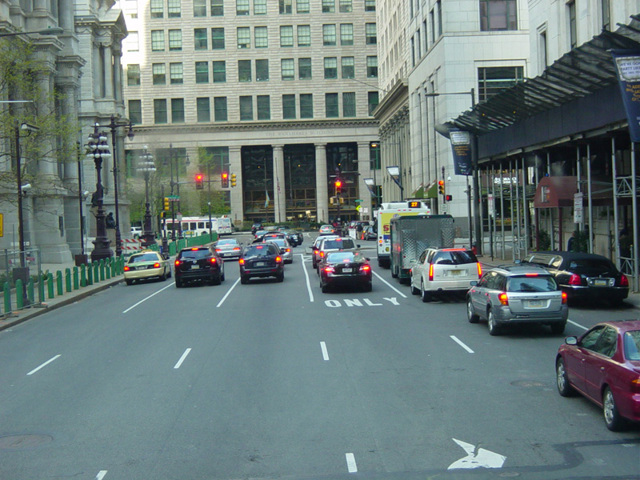 ---
Direction:

North/South

Southern Terminus:

Delaware Expressway (I-95) in Philadelphia

Northern Terminus:

I-380 in Tobyhanna

Distance:

106.06 miles

Counties:

Philadelphia, Montgomery, Bucks, Northampton, Monroe

Signed:

Yes
PA 611 is a north/south route in the eastern portion of Pennsylvania. It begins at the Delaware Expressway (I-95) in Philadelphia. In this area it is known as Broad Street and is a large four- to six-lane road. There is a one-block section of Broad Street that is missing to make room for City Hall. PA 611 is routed along a set of one-way streets encircling City Hall, South Penn Square, Juniper Street, John F. Kennedy Boulevard, and 15th Street. Broad Street continues again north of City Hall.
Just south of the city line, PA 611 turns off of Broad Street onto Old York Road. It continues north to Willow Grove, where Old York Road changes names to become York Road and then Easton Road. It continues north to Doylestown, where PA 611 becomes a short expressway called the Doylestown Bypass. At the end of the expressway, it rejoins Easton Road, continuing north and eventually meeting the Delaware River. It runs north right along the river, changing names to become South Delaware Drive.
PA 611 crosses the Lehigh River to Easton, where it is called Larry Holmes Drive. North of Easton, it is called North Delaware Drive. It runs along the Delaware River to the Delaware Water Gap, where it changes names to become Main Street. It turns west onto Foxtown Hill Road, which extends a couple of miles to Stroudsburg. There, it changes names to become Park Avenue and then South 7th Street. It is multiplexed with US 209 along Main Street for a couple of blocks and then turns onto North 9th Street. PA 611 runs east, parallel to I-80, to Tannersville, and then curves to the northeast. It ends at I-380 in Tobyhanna.
The route number derives from the fact that PA 611 was once designated US 611 and extended further northeast to US 11 in Scranton.
---
Copyright © 2003-2021 by David Golub. All rights reserved. The author would like to thank William Roll for contributing photographs and LC for contributing documents to this web site. You may not reproduce any text or photographs on this web site without express permission from the author. Hotlinking of images from this site is strictly prohibited. Route symbols based on graphics from Central PA/MD Roads and Wikipedia. Map icons by MapGlyphs.com.