Berkshire Road, Roosevelt Drive, Main Street, New Haven Avenue, Derby Turnpike, Derby Avenue, Ella T. Grasso Boulevard, Legion Avenue, South Frontage Road, North Frontage Road, MLK Boulevard, Oak Street Connector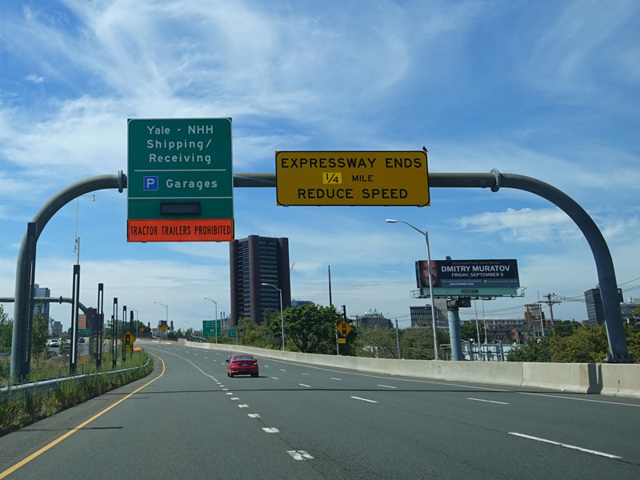 ---
Direction:

East/West

Western Terminus:

Yankee Expressway (I-84/US 6) in Newtown

Eastern Terminus:

Connecticut Turnpike (I-95) and I-91 in New Haven

Distance:

24.37 miles

Counties:

Fairfield, New Haven

Signed:

Yes
CT 34 runs diagonally through southwestern Connecticut. It begins at the Yankee Expressway (I-84/US 6) in Newtown and runs southeast along Berkshire Road and Roosevelt Drive to the Housatonic River. It crosses the river at Stevenson Dam. On the other side, Roosevelt Drive runs along the river to Derby, where it becomes Main Street.
There is an interchange with the CT 8 expressway, and then Main Street crosses a small bridge over the Naugatuck River. On the other side, it turns onto New Haven Avenue. Continuing east toward New Haven, it changes names again to become Derby Turnpike and then Derby Avenue. In New Haven, Derby Avenue ends and CT 34 is multiplexed with CT 10 south along Ella T. Grasso Boulevard. An expressway known as the Oak Street Connector was supposed to carry CT 34 from Ella T. Grasso Boulevard to the Connecticut Turnpike (I-95) and I-91. However, only a portion of it was actually built, so CT 34 runs east along Legion Avenue, South Frontage Road, North Frontage Road, and MLK Boulevard, the frontage roads of the partially-built expressway, to the beginning of the Oak Street Connector. The Oak Street Connector carries the CT 34 designation for its entire length. CT 34 ends at the Connecticut Turnpike (I-95) and I-91 in New Haven.
The original Oak Street Connector extends to just west of College Street. There were three numbered exits on the westbound side, with all traffic being forced onto exit 3, leading to North Frontage Road. The Oak Street Connector was significantly modified in a 2010-2021 construction project to better meet the needs of the surrounding neighborhood. The end of the expressway has been moved east to just before South Orange Street, and all three lanes now seamlessly transition into North Frontage Road, which has been renamed MLK Boulevard. What was the portion of the expressway west of that point has been converted into a long ramp for what it now the one and only westbound exit, an unnumbered left exit for Yale-New Haven Hospital. Following these changes, the portion of CT 34 east of Ella T. Grasso Boulevard (CT 10) has become largely unsigned. Exit 47 on the Connecticut Turnpike (I-95) is signed for MLK Boulevard with no route number posted.
---