Berkshire Road, Roosevelt Drive, Main Street, New Haven Avenue, Derby Turnpike, Derby Avenue, Ella T. Grasso Boulevard, Legion Avenue, South Frontage Road, North Frontage Road, MLK Boulevard, Oak Street Connector
CT 34 begins at the
Connecticut Turnpike (I-95)
and
I-91
as a very short expressway called the Oak Street Connector. There is a single exit on the left for Yale-New Haven Hospital.
Photos taken September 2022.
After the end of the expressway, the westbound side of CT 34 becomes MLK Boulevard, also known as North Frontage Road. There are traffic lights at South Orange Street, Church Street, Church Street South, Temple Street, College Street, and York Street.
Photos taken September 2022.
North Frontage Road runs west through New Haven. It was originally planned that the Oak Street Connector would continue through this area with North Frontage Road and South Frontage Road as its service roads. This never actually happened, leaving service roads with no highway. The parking garage on the left is called the Air Rights Parking Garage, because its owner has air rights over the highway that was never built.
Photos taken April 2008.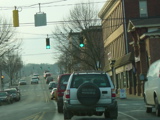 Skipping a substantial distance to the west, Main Street runs through Derby.
Photo taken February 2009.
CT 34 runs northwest along the Housatonic River. Here, it is called Roosevelt Drive. The river is on the left.
Photos taken February 2009.
---