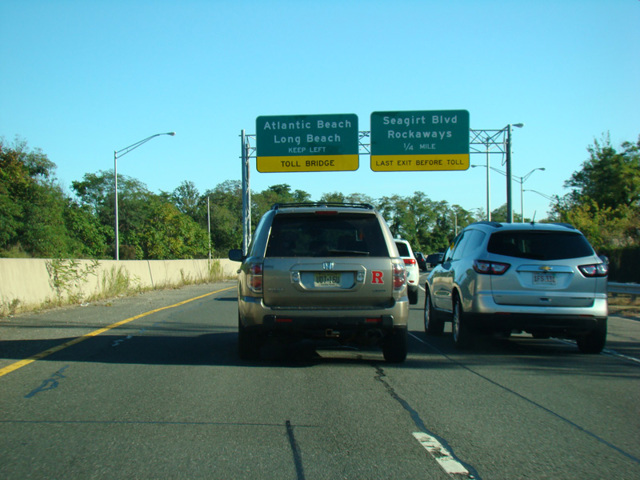 ---
Direction:

East/West in Queens, North/South in Nassau

Western Terminus:

Belt Parkway and South Conduit Avenue (NY 27) in Queens

Eastern Terminus:

Rockaway Boulevard in Queens

Northern Terminus:

Rockaway Turnpike (CR 257) in Inwood

Southern Terminus:

Beech Street (CR 22) and Atlantic Boulevard in Atlantic Beach

Distance:

3.73 miles in Queens, 2.83 miles in Nassau miles

Counties:

Queens, Nassau

Signed:

Yes
I-878 was a highway proposed by Robert Moses. It would have begun at the Belt Parkway and connected to the Bushwick Expressway (I-78), another unbuilt highway. From there it would have run parallel to the Belt Parkway for a short distance before curving toward the south, crossing the Queens-Nassau county line, and running to the south through the Five Towns. From there, it would have crossed the Atlantic Beach Bridge, curved to the east, and ran through Atlantic Beach, Long Beach, and Lido Beach to Point Lookout and the Loop Parkway, where it would have ended. The section between the Belt Parkway and the Atlantic Beach Bridge would have been called the Nassau Expressway. The section between the Atlantic Beach Bridge and Point Lookout would have been called the Long Beach Expressway.
However, only two sections, each only a few miles long, of the proposed I-878 were actually built. Both are known as the Nassau Expressway and designated NY 878. A short section of expressway was constructed from the Belt Parkway to Rockaway Boulevard in the vicinity of John F. Kennedy International Airport. A second section, which is a divided boulevard with traffic lights, was constructed from Rockaway Turnpike (CR 257) through the Five Towns to the Atlantic Beach Bridge. It ends on the other side of the bridge at Beech Street (CR 22) and Atlantic Boulevard in Atlantic Beach. The section near the airport is an east/west route, while the section in the Five Towns is a north/south route. The section in the Five Towns does not connect to any other state route.
---
Copyright © 2003-2022 by David Golub. All rights reserved. The author would like to thank William Roll for contributing photographs and LC for contributing documents to this web site. You may not reproduce any text or photographs on this web site without express permission from the author. Hotlinking of images from this site is strictly prohibited. Route symbols based on graphics from Central PA/MD Roads and Wikipedia. Map icons by MapGlyphs.com.