Cross Bronx Expressway, Broadway, Albany Post Road, South Highland Avenue, North Highland Avenue, Croton Expressway, South Road, North Road, Mill Street, Montgomery Street, Spring Brook Avenue, South Broadway, North Broadway, Worth Avenue, Warren Street, Park Place, Columbia Street, Green Street, Fairview Avenue, Stottville Village Road, Broad Street, Chatham Street, Kinderhook Street, Columbia Turnpike, Columbia Street, Dunn Memorial Bridge, Clinton Avenue, Henry Johnson Boulevard, Loudon Road, Halfmoon Parkway, Marion Avenue, Maple Avenue, Saratoga Road, Saratoga Avenue, Main Street, Glen Street, Lake George Road, Canada Street, Court Street, Maple Street, Front Street, North Ausable Street, US Avenue, Peru Street, Bridge Street, City Hall Place, Miller Street, Margaret Street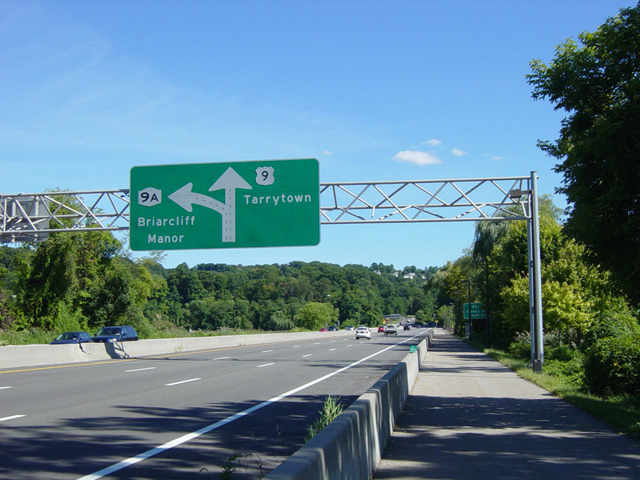 ---
Direction:

North/South

Southern Terminus:

George Washington Bridge at New York-New Jersey state line

Northern Terminus:

Northway (I-87) in Champlain

Distance:

325.01 miles

Counties:

New York, Bronx, Westchester, Putnam, Dutchess, Columbia, Rensselaer, Albany, Saratoga, Warren, Essex, Clinton

Signed:

Yes
US 9 is a major north/south route in New York State, running parallel to the Hudson River for much of its length. It enters New York from New Jersey on the George Washington Bridge, multiplexed with I-95 and US 1. It continues multiplexed along the very beginning of the Cross Bronx Expressway in Manhattan before splitting off at the very first exit and running north along Broadway. It follows Broadway north through Inwood, the northernmost area of Manhattan, and then over the Broadway Bridge to the Bronx. Broadway runs through a suburban-like area of the Bronx known as Riverdale. There is an interchange with the Henry Hudson Parkway, which is designated NY 9A to the south. NY 9A splits off from the parkway and is multiplexed with US 9 along Broadway.
Broadway continues north, crossing into Yonkers in Westchester County. NY 9A splits off onto Ashburton Avenue, while Broadway continues as US 9, passing through the various towns and villages along the Hudson River in Westchester. In Tarrytown, it has an interchange with the New York Thruway (I-87) just east of the Tappan Zee Bridge. A short distance to the north, in Sleepy Hollow, it changes names to become Albany Post Road. It then becomes South Highland Avenue and North Highland Avenue. In Ossining, US 9 merges with the Briarcliff-Peekskill Parkway (NY 9A) to form the Croton Expressway. US 9 and NY 9A are multiplexed for a short distance again before NY 9A splits off to follow the local streets. US 9 continues north along the expressway to Peekskill, where it has an interchange with US 6/US 202, which provides access to the Bear Mountain Bridge. The expressway ends at this point, and US 9 once again becomes a local street. It is known here as Albany Post Road, a name that it will carry through much of the Hudson Valley.
In Fishkill, there is an interchange with I-84 near the Newburgh-Beacon Bridge. US 9 continues north to Poughkeepsie, where is known as South Road and North Road. It becomes a limited-access highway for a very short stretch, where there is an interchange with US 44/NY 55 near the Mid-Hudson Bridge. North of Poughkeepsie, it is known as Albany Post Road once again. It continues through the Hudson Valley. It is known in many areas as Albany Post Road, although it takes on other names in some of the more major towns.
Eventually, US 9 passes under the Berkshires Section of the New York Thruway and then has an interchange with the free section of I-90, the easternmost interchange on I-90 before it rejoins the Thruway. A short distance to the north, US 9 merges with US 20 to form a road known as Columbia Turnpike, which has another interchange with I-90 and then runs northwest to the Hudson River in Rensselaer. US 9/US 20 crosses the river to Albany on the Dunn Memorial Bridge. On the other side of the river, the two routes split. US 9 runs west along Clinton Avenue. US 9W has its northern terminus at US 9 along Clinton Avenue in Albany. Just past this intersection, US 9 turns back to the north along Henry Johnson Boulevard. Heading out of Albany, US 9 has a third interchange with I-90 and then changes names once again to become Loudon Road.
US 9 continues north to Saratoga Springs and then through the Adirondack Mountains. It takes on a number of different names in the more major towns and has no name in some of the more rural areas. It ends at the Northway (I-87) in Champlain, just south of the border with Canada.
---