Cross Bronx Expressway, Broadway, Albany Post Road, South Highland Avenue, North Highland Avenue, Croton Expressway, South Road, North Road, Mill Street, Montgomery Street, Spring Brook Avenue, South Broadway, North Broadway, Worth Avenue, Warren Street, Park Place, Columbia Street, Green Street, Fairview Avenue, Stottville Village Road, Broad Street, Chatham Street, Kinderhook Street, Columbia Turnpike, Columbia Street, Dunn Memorial Bridge, Clinton Avenue, Henry Johnson Boulevard, Loudon Road, Halfmoon Parkway, Marion Avenue, Maple Avenue, Saratoga Road, Saratoga Avenue, Main Street, Glen Street, Lake George Road, Canada Street, Court Street, Maple Street, Front Street, North Ausable Street, US Avenue, Peru Street, Bridge Street, City Hall Place, Miller Street, Margaret Street
Northbound Views (Archived)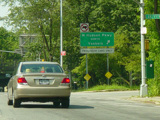 This sign used to mark the entrance to the
Henry Hudson Parkway
from Broadway in the Bronx. It has been replaced.
Photo taken July 2011.
These signs were found on Broadway in Dobbs Ferry. They have been replaced with more modern pedestrian crossing signs, and the speed limit in the area has been lowered to 20 MPH.
Photos taken July 2016.
These signs in Tarrytown have been modified to reflect the renaming of the Tappan Zee Bridge to become the Governor Mario M. Cuomo Bridge.
Photos taken June 2012.
These erroneous NY 9 shields were found on the Croton Expressway. They have been replace with correct US 9 shields.
Photos taken August 2013.
These pictures show the Croton Expressway northbound as it appeared while construction was in progress to rehabilitate one of the overpasses.
Photos taken August 2018.
---