Trenton Freeway, Brunswick Pike, Pulaski Skyway, Tonnele Avenue, Broad Avenue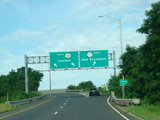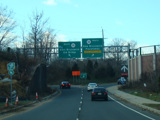 The ramp for
NJ 18
when travelling south splits. Bear right to go north or left to go south.
Photo taken December 2015.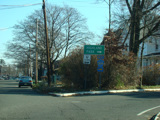 After taking the exit for
Woodbridge Avenue (CR 514)
when travelling north, bear right to get on CR 514. Continue straight ahead for the local streets.
Photo taken December 2015.
The ramp for Green Street (CR 604) in Woodbridge ends at a traffic light. Turn right to go east toward
US 9
. Turn left to go west.
Photos taken September 2022.
The ramp for the exit for the
New Jersey Turnpike (I-95)
merges with a ramp from
I-78
and then splits. Bear right for the turnpike or bear left for US 1/US 9.
Photos taken January 2013.
---