Fair Street, Main Street, River Street, North Main Street, Esperance-Schoharie County Line Road, Minaville Road, Market Street, Perth Road, Sabael Road, Deerland Road, Wawbeck Avenue, Park Street, Tupper-Saranac Highway, Finney Boulevard, West Main Street, Elm Street, Constable Street
NY 30 splits into a pair of one-way streets. Southbound traffic follows Pearl Street.
Photos taken August 2022.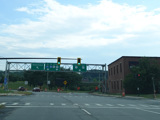 NY 30 becomes an expressway for a short distance. There is an exit on the right for
NY 5/NY 67
east, followed by an exit on the left for the downtown area.
Photos taken August 2022.
There is an exit for
NY 5S
. Immediately thereafter, the expressway ends at a traffic light. Turn left for an entrance to the
New York Thruway (I-90)
.
Photos taken August 2022.
South to Delaware County
---